Posted: Friday, February 3, 2017
            If a picture is worth a thousand words, then this GIF nicely sums up the past week at the Texas Legislature: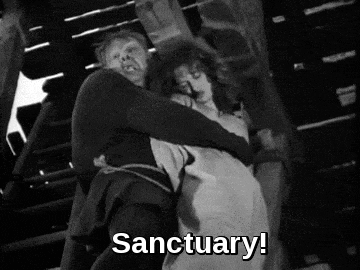 A lesson in currency
            If the system is working as it should, some of you should be getting questions from legislators or advocacy groups about bills that they want to file. There are several reasons why they are contacting you, but the main one is that they don't want to do something unpopular back home, and they definitely don't want their local elected prosecutor(s) leading the torch-and-pitchfork welcome wagon at the end of the session. This means that your thoughts on a matter are a form of currency—a thing of value that can be used to "purchase" other "goods." And like other forms of currency, what you have may be more highly valued by others than it is by you. Because of that, you can do many things with the currency you possess: You can give it away as charity, you can loan it to someone and seek repayment later, or you can "spend" it in return for something you want right now.
            Keep all of this in mind when people in and around the Capitol seek your input. From what we can tell, many of you undervalue your own "currency" and are very, very generous in the charitable donation of it, meaning that you often get little or nothing in return for it. That is a perfectly acceptable way to operate if you want for nothing—but if there is something you want from the Legislature, recognize the value others attribute to your currency and don't be afraid to ask for something in return.
            [OK, stop here and re-read this section again, maybe even a third time. Let it sink in; it's important.]
Help wanted
            Speaking of asking for favors: We are six prosecutors short of having a full volunteer rotation in Austin this session. Please call or email Shannon for more information about our session volunteer program. It's a great learning opportunity, and it will make you the most knowledgeable person back home when it comes to what's going on in Austin this session.
Help wanted, Part II
            Some of your fellow prosecutors have asked us to solicit your input on various policy issues this session. Here's the scoop:
Deferred adjudication for DWI-1st offense
            Comal County Criminal DA Jennifer Tharp and Bexar County Criminal DA Nico LaHood are seeking legislation to authorize deferred adjudication for certain first-time DWI offenders (usable as an enhancement, as with Assault-Family Violence). Many of you have expressed an interest in supporting that kind of legislation (a draft of which is attached to this update), and now is the time to act. If you are willing to publicly support that effort and speak to your local legislators about it—or if you have questions before taking such a step—please email Jennifer with that information/request.
Grand jury impaneling
            Polk County Criminal DA Lee Hon would like to know if you have experienced problems impaneling grand juries—either by lack of bodies or lack of sufficiently diverse bodies—since the change in law two years ago, and if so, what would be most helpful in addressing that problem in your jurisdiction. Email responses to Shannon and he will forward them along.
DA recusal in officer-involved shootings
            State Rep. Ron Reynolds (D-Missouri City) has filed HB 854 to disqualify local DAs in certain officer-involved shootings and replace them with a neighboring prosecutor selected by the AG's office. The bill was not suggested by his local prosecutors, but one of them would like to know whether you think a bill like that would help combat the unfair perception of a conflict of interest in those cases and create a better sense of trust with your community/police, as opposed to what happened in the wake of cases in other states like those involving Eric Garner, Freddie Gray, or Akai Gurley. If you would publicly support or oppose such a bill, email Shannon and he will forward that information to the requestor.
The State of the State
            The Governor delivered his State of the State Address Tuesday. His emergency items? CPS reform, banning sanctuary cities, legislative ethics reform, and a constitutional convention of the states. Those official emergency designations enabled Senate committees to get cracking on them this week. There was much more in the speech as well, with the list of "honorable mentions"—items not officially named emergencies but still on his wish list—including: a state hiring freeze (excluding CPS and other public safety agencies), a revenue cap on local government taxation, adding peace officers to the hate crimes law, and criminalizing the sale/donation of fetal remains from abortions. One item he did not mention was the Senate Bill 6, the so-called "bathroom bill," adding further intrigue about where he stands on an issue likely to divide the House and Senate this session (as if that list could get any longer).
The State of the Judiciary
            Chief Justice Nathan Hecht gave his State of the Judiciary speech the day following the governor's State of the State Address. Like most sequels, it generally fails to get the love or attention of the original, but the Chief did touch on issues relevant to your jobs, including: courthouse security, judicial pay raises, pre-trial bail reform, statewide online court records system (which most of your clerks hate), reducing fine/fee/cost burdens on indigent offenders, ending straight-ticket voting for judges, and more. The chief justice recognized Travis County District Judge Julie Kocurek in the audience and wants to make her the poster child for the Judicial Council's proposed bill on courthouse security, SB 42 by Zaffirini (D-Laredo). It was an effective gesture, and we couldn't help but be grateful that she could be there for that speech—unlike former Kaufman Co. Criminal DA Mike McLelland, his wife Cynthia, or Asst. CDA Mark Hasse, who were all assassinated because of their courthouse business but whose deaths in 2013 elicited no such impulse for improved security from the Judicial Council. But hey, we'll take help whenever we can get it, so read that bill and let us know your thoughts.
            That issue aside, the reality of the State of the Judiciary speech is that the chief justice doesn't get to wield a veto pen or threaten officials' funding, so the fate of his wish list is much more in doubt than the governor's to-do list. We are still waiting to see the bills the Texas Judicial Council has been drafting to accomplish several of the policy changes mentioned in the State of the Judiciary speech, but we will let you know when they drop.
Senate Bill 4: Sanctuary cities
            Yesterday, the Senate State Affairs Committee spent all day and night taking testimony on SB 4 by Perry (R-Lubbock) banning "sanctuary cities" (whatever those are—the term is never actually used in or defined by the bill, but it's still a useful term of art). Despite hundreds of witnesses testifying against the bill, it passed the committee on a 7­–2 party-line vote in the wee hours of this morning. You can read your local news outlet of choice for all the political details, but here's the bottom line from a technical point of view: In its current state, this bill should not directly affect your business or your funding unless you are doing something far afield from anything we've heard about. For that reason, we're going to continue to monitor it, but we likely won't be providing further updates in this space unless the language of the bill puts your office funding at risk. Just be aware that it will remain a contentious subject this entire session, so if you ever see one of your bills stuck behind SB 4 on a House calendar, don't count on getting to yours anytime soon.
Senate Bill 11: CPS reform
            As we predicted last week, on the heels of CPS reform being declared an emergency by the governor, the Senate Health and Human Services Committee held a hearing Thursday on SB 11 by chairman Charles Schwertner (R-Georgetown). The committee substitute version laid out by Schwertner mandated the creation of four pilot programs for a "single source service provider"—either a government entity or a non-profit—to provide "integrated case management services" for kids in foster care with the most severe medical and behavioral health needs. In addition, the bill mandates a pilot program whereby a "single source continuum contractor" would take over all case management services in one region. The goal is to create a community-based foster care system using local non-profits and other entities. Several people testified in favor of the bill, including William County Attorney Dee Hobbs. One notable exception was former Travis County district judge/current UT law professor Scott McCown, who testified that privatizing case management services was a mistake. Judge McCown believes that privatization will end up being more expensive once there is no competition and, pointing to the Florida experience, that Texas could see a drastic increase in the number of children taken from the home once the CPS workers doing removals no longer have any responsibility for the care of the children afterwards. The bill was left pending.  For more information, contact Rob.
            Elsewhere, CPS commissioner Hank Whitman took another butt-chewing from members of the Senate Finance Committee who are frustrated that he hasn't solved all the problems in under a year, while the House panel looking at CPS reform may have some very different ideas from the Senate as to what that reform should look like. In other words, this debate is far from over.
Other news from this week
            The silence from the House was deafening when it adjourned on Thursday without appointing committees. With very few exceptions, House committees have almost always been named before the Super Bowl, and the failure to announce them now delays action in that chamber for another week, which will ultimately result in the untimely deaths of hundreds of bills later this session. If you are trying to pass bills, that's a bad thing, but if you are trying to tap the brakes on bills that someone else is really excited about passing, it's a masterly passive-aggressive move. How it will all work out is anyone's guess, but one thing is for certain—this is not a move that endeared the Speaker to the Governor and Lite Guv. Prepare for rough seas ahead!
Looking ahead
            The Speaker is probably going to have to announce his committee assignments next week or lobbyists will burn the Capitol to the ground on behalf of their clients who want their bills heard. Meanwhile, the Senate could be debating and passing ethics reform and sanctuary cities legislation by this time next week, now that both have been deemed emergency items by the governor. We could compare this disparity in action to the tortoise and the hare, except that we're not sure the hare wants to cross the finish line on some issues that will be coming down the pike behind these first two emergency items.
Committee hearings
            With no House committees named, it will be another slow week next week (and probably the following one as well). Here's what has been posted as of this morning:
TUESDAY, FEBRUARY 7
Senate Committee on Finance, 9:00 a.m., Capitol Extension Room 1.036
Article IV – Judiciary overview
WEDNESDAY, FEBRUARY 8
Senate Committee on Finance, 9:00 a.m., Capitol Extension Room 1.036
Article V – Public Safety & Criminal Justice overview
New bills to watch
            We gave you a lot of "homework" last week in the form of a list of almost 40 bills that you might want to be aware of. As we near the filing deadline that is five weeks away, we'll continue to update that homework assignment, but in smaller doses. (You're welcome.)
HB 1275 by Moody creating a criminal penalty for violating certain conditions of release involving ignition interlock devices
HB 1322 by Burns authorizing non-lawyer JPs to issue DWI blood search warrants
HB 1327 by Metcalf enhancing penalties for certain aggravated intox assault and intox manslaughter cases (proposed by Montgomery Co. DA Brett Ligon)
HB 1357 by Moody treating certain acts of cruelty to animals as family violence
HB 1435 by Wu authorizing CAs and DAs to file DTPA actions (suggested by Harris Co. CA Vince Ryan's office)
SB 653 by V. Taylor expanding the scope of the improper educator-student relationship offense
SB 707 by Birdwell making admissible at trial certain child forensic interviews
To follow along with us during the week as more bills are filed, check our live tracking updates on the Legislative page of our website. If you are curious to know exactly what bills we are tracking under any other category, email Shannon and he can send you a list that will include hyperlinks to each bill's text online.
Quotes of the month
"Exceptional."
            —Gov. Greg Abbott's assessment of the state of the state.
"Eight months. Eight long months."
            —State Sen. Charles Schwertner (R-Georgetown), author of SB 11 (CPS reform), noting how long CPS Commissioner Hank Whitman has been on the job.
"While money matters—and it does matter—money is not the silver bullet. If money alone were the fix, then the child welfare system would already have been fixed long ago."
            —State Rep. James Frank (R-Wichita Falls), on various CPS reform efforts this session.
"The bottom line is that it can't pass the Senate right now."
            —Senate Criminal Justice Chairman John Whitmire (D-Houston), explaining that a "Raise the Age" bill would cost counties and the state too much to pass in this tight budget cycle.
"(Lt. Gov. Dan) Patrick is king in the Senate, probably the strongest since Bob Bullock, and he has the support of Tea Party Republicans that control the party. … (House Speaker Joe) Straus is just as strong in the House, and he sees his role as stopping the bad stuff from the Senate."
            —Anonymous lobbyist, describing the likely theme of this session.
"People who are pretty entrenched on either side, they tend to feed the beast. They don't try to find a way to work with the other side. They find a way to keep the buffet table full."
            —Bill Miller, political consultant, nicely summarizing the general political atmosphere in Austin right now.
"If they have their way, you guys will be lucky to get invited into the grand jury room."
            —A Capitol staffer, joking with us this week about a grand jury reform bill soon to be filed at the request of the Right on Crime people to put a stop to prosecutions of politicians and other well-funded investigation targets.
###